According ABC News, housing prices nationwide have slumped in 2018 according to new data
from CoreLogic finance reporter Sewell Annan explains wealth in for 2018 of fall of about
nearly 5% nationally and that is actually the biggest since the global financial crisis of course prices rose
to record highs and construction speak so it's no surprise the prices are coming back now. Now this data from CoreLogic showed that prices fell by 4.8% over 2018 the declines were led by a 9% fall in Sydney and a 7% fall in Melbourne values dropped in half the nation's capital city. the other half saw prices rise but mainly at a slower pace. Hobart Hobart prices jumped by eight point seven percent.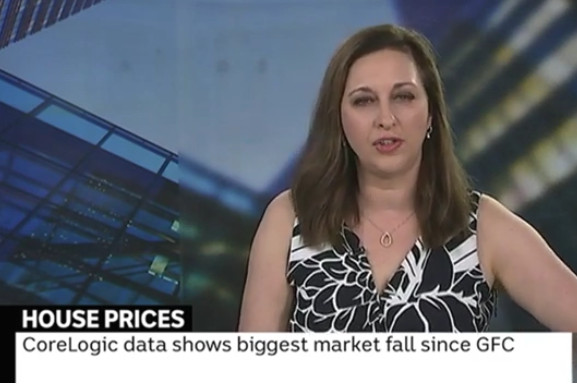 Now Cameron Cuccia from CoreLogic expects the downturn in the housing market to be worse than during the global financial crisis, he says : "we're seeing the weakness continue in the housing market
at a national level and it's very much being driven by Sydney and Melbourne in fact the last quarter in in Sydney was
the weakest quarter for growth well the largest Falls over a quarter we've seen since 1985, and the decline over the quarter in Melbourne which was 3.1 percent was actually the largest fall over a quarter we've seen on record and our records go back to 1980s, so if anything in those two largest capital cities we're seeing the housing market conditions actually weakened further over the last three months of the year"
And what happened to regional areas "in the regional markets we're seeing some weakness in those areas as well but they're holding up much better than what we're seeing across the capital cities over the last year we saw 0.2% fall in regional market dwelling values compared to a 6.1 percent fall across the combined capital cities, so they're still weakness in those regional areas but it's certainly not – the magnitude that we're seeing in the capital cities and it's very much being driven by those areas surrounding Sydney whereas regional markets in Tasmania regional markets in Victoria for example, very much outperforming the capital city market performance"
In Cameron could show what is driving the lower prices there's, he says  "There is a number of factors obviously in Sydney and Melbourne you've seen a big run-up in prices over recent years, but everyone I'm talking to and all the data really does point to the fact that just the availability of credit and how it's so much tighter now than it has been for many many years is a big driving factor of the weaker conditions, we obviously saw a late last year that the Reserve Bank even felt it necessary to go and talk, to the big four banks about making credit more freely available so clearly it is a an area of concern for the Reserve Bank, that it's just very difficult to get a loan at the moment and that's impacting on property prices"
And just quickly Cameron Kutcher will this downturn be worse than the one we saw in the property market during the global financial crisis. "well in Sydney it's already worse in Melbourne it's pretty close to being as worse so I think overall when the when the dust settles that this is going to be a deeper downturn than we did see during the financial crisis"
Well joining me now to discuss the outlook for the Australian economy is head of global markets research at the Commonwealth Bank Stephen Hamrick. What's your view on the Australian high housing market are you expecting further Falls, "well we are and there she just seems to that data we had some Falls at the very end of last year and, we would expect some further fall through 2019, perhaps around 10 to 15% for both Sydney and Melbourne. so it's a little bit more to go but I think we need to put those declines in the context we're talking about in that piece there you know the biggest fall since the GFC. well, in that ten-year period Sydney and Melbourne house prices will wrap you know quite massively you know 70 75 80 percent so some declines from those huge gains is is not surprising given the increase in supply and some reduction and demand that we've seen over the course of last year.
so I think you know in percentage points terms we're talking about mere big declines but in the content we're taking"